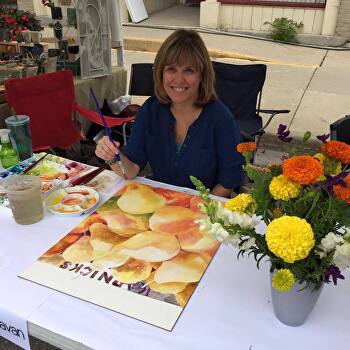 An award winning artist, Jean derives inspiration from her observation of daily life. Her watercolor still life and landscapes reflect transitions of light and shadow, and express a sense of memory of time and place. Jean's works can be found in private and public collections and galleries throughout Michigan. She belongs to multiple painters' guilds and we are thrilled to have a couple of her paintings in the studio.
Rentschler Farm in Saline, often inspires local artists to capture images from this historic site. The sunflowers that burst on to the scene during Michigan summers, invited Jean to paint, en plein air, one of Michigan's favorite flowers. Look closely at Jean's piece titled Sunflower, and take in the complex details of the petals or "rays" that inspired its name.
Inspired by a walk through San Francisco's China Town, Jean just had to paint the colorful and festive lanterns that hung everywhere. February 1, begins the Chinese New Year; this is a great opportunity to stop by the gallery and see Jean's painting titled, Sky Lanterns 2. Jean captures the intricate but delicate beauty of traditional Chinese paper lanterns. Jean was awarded best of show and sold her piece titled Sky Lanterns 1, at the Northville Arthouse Watermedia Show.